Experiences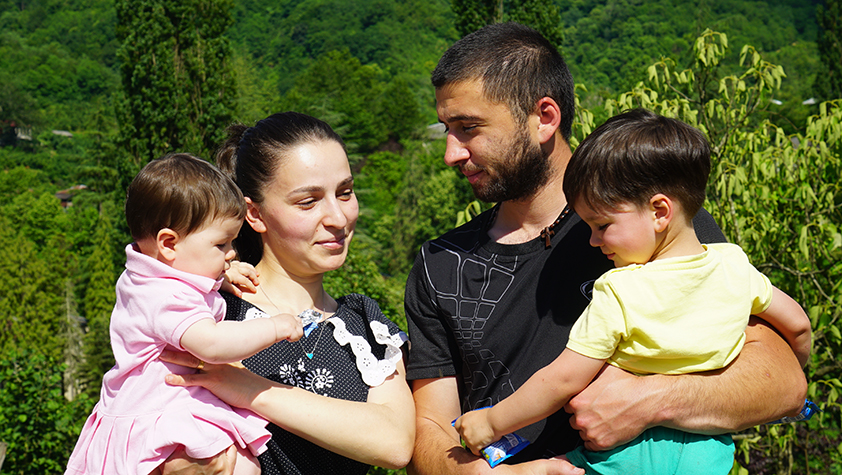 Shota from Georgia: We seized the opportunity that has fully changed our lives
The village of Tskaltubo in the central part of Georgia is known for its green valleys and mineral springs. This is where Shota with his family moved after his return from Slovakia, at a time when the coronavirus pandemic started to spread around the world. Shota and his wife have a small farm which keeps the whole of their young family very busy.
Why Shota ask IOM for assistance more than a year ago?
In the past, Shota also decided to look for a better paid job abroad and make money for his growing family. He was promised a job at a car factory, so he did not hesitate and arrived in Slovakia. However, the promised job did not work out and Shota had to find another employer to get a job and earn money for his family.
After a few weeks, during an inspection, the police found out that Shota did not have valid documents. He had to leave the country before he could earn anything. He was left without a job and without money.
I did not have any funds to return home. My employer advised me to contact  IOM.
IOM staff provided him with food while preparing his return. They also bought him a flight ticket to Georgia and a ticket to his place of residence. In addition, on the day of departure, Shota received pocket money to cover his basic needs immediately upon his return home. In a deteriorating pandemic situation, his return took place just before the closure of international airports. Shota was very lucky, even though a difficult situation awaited him at home.
No job, pandemic outbreak and a new member in the family. Shota decided to move with his family to the countryside, despite the fact that they had no specific plan. At this time, another offer for assistance came from IOM and Shota decided to seize it.
Although he studied agriculture, he has never worked in this area. However, Shota saw IOM´s offer as an opportunity to make use of his education and decided to start pig farming. IOM bought him young piglets and the necessary feed as part of his reintegration assistance. From a simple idea, a family farm was created, and even though pig farming now covers only basic costs, they would like to expand their business. Shota and his wife devote to this activty all the time they have in addition to their two kids.
His wife is convinced that they will succeed. And what message does she have for all migrants who are in a similar situation as her husband?
To find out, watch the story:
More information on IOM assistance to migrants during and after their return home from Slovakia: www.avr.iom.sk.
(Names of the persons have been published with their consent.)