Experiences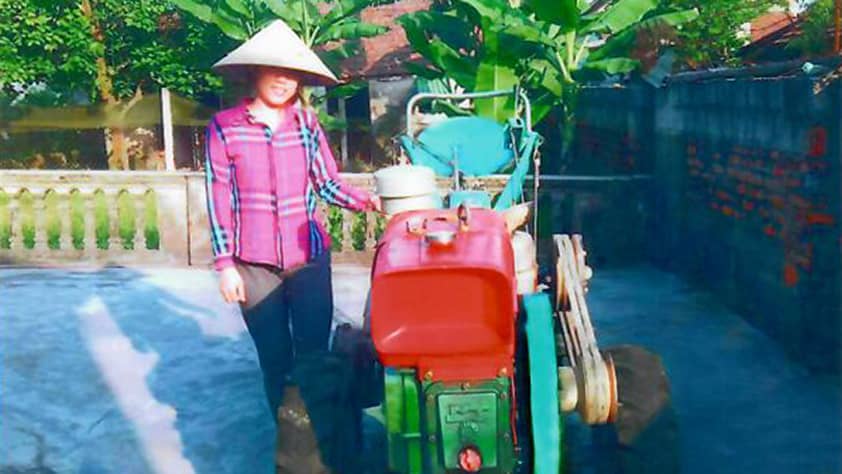 Phuong from Vietnam: With our own minitractor, we can cultivate fields on our own
Mrs Phuong left her native Ha Tinh Province, belonging to one of the poorest provinces in Vietnam due to harsh environment. Rugged topography in this part of country combined with cold winters and very hot summers force many, especially younger inhabitants, to search for a source of income abroad.
Heading to Germany, Mrs Phuong was arrested in Slovakia, together with other citizens of Vietnam. After considering her options, she opted for an IOM assisted voluntary return from Slovakia to Vietnam as one of the first persons in the group.
Aside from the assistance with returning home, IOM offered Mrs Phuong other support which she could use to start her new life after returning to Vietnam. Several options of utilising the assistance were at stake, including supporting her education that could increase her chances of earning a living. Upon agreement with her parents, Mrs Phuong eventually decided to purchase a minitractor, needed to cultivate the rice fields by her family:
"Having our own minitractor will not only save my family money, which we would otherwise need to pay to other farmers for cultivating our fields, but we can also offer cultivating or transport services to other farmers without their own machinery."
Thanks to IOM support, Mrs Phuong and her family can cultivate their fields faster, save money using their own technology and gain additional income from their services for others, despite harsh living conditions.
More information on how IOM helps migrants during and after their return home from Slovakia: www.avr.iom.sk.
(Names of the persons have been published with their consent. / Names of the persons have been altered to protect their identity.)